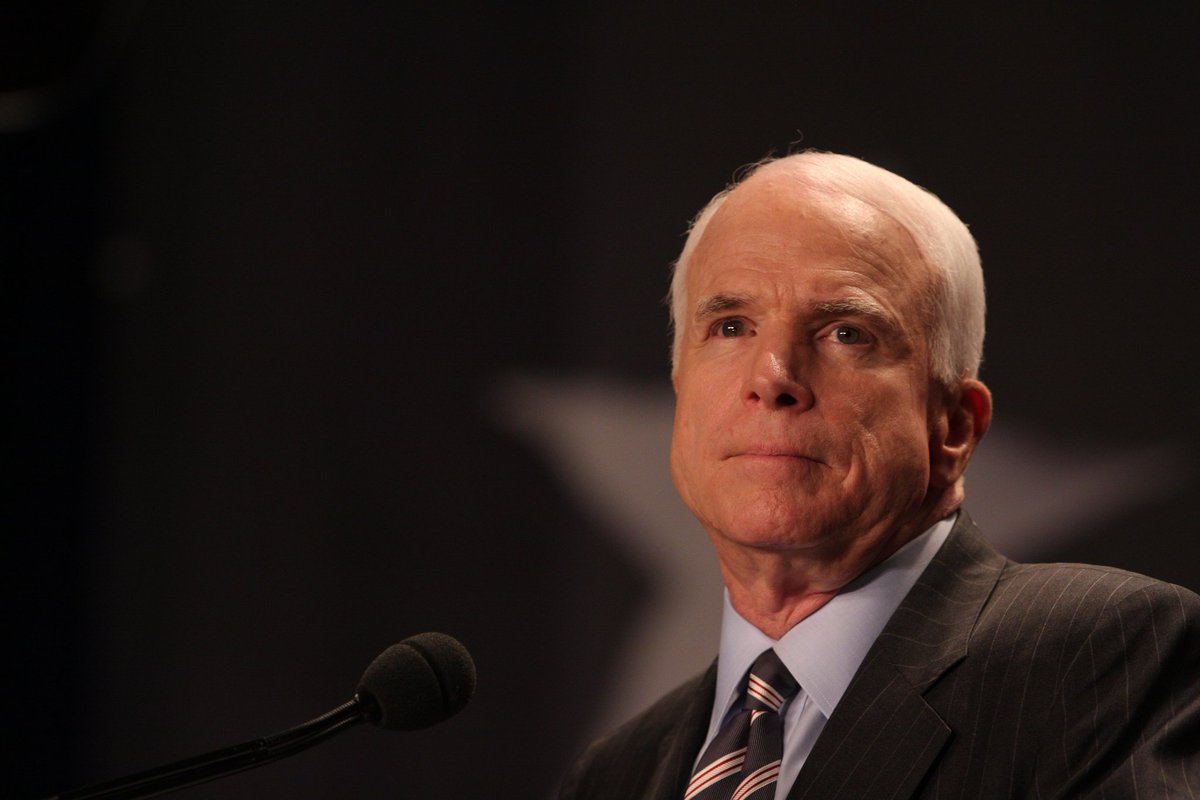 Anti-Trump Republican John McCain is under fire again this week for some shady activity relating to the McCain Institute.
Recently, it was revealed the McCain Institute received funding from big-time Clinton family donor, George Soros, and other liberal groups.
And now the McCain Institute refuses to disclose any of their donations, begging the question, what are they trying to hide?
It's been reported that they have received funding from several questionable groups.
The Daily Caller reported:
The institute has accepted contributions of as much as $100,000 from billionaire liberal activist-funder George Soros and from Teneo, a for-profit company co-founded by Doug Band, former President Bill Clinton's "bag man." Teneo has long helped enrich Clinton through lucrative speaking and business deals.
Now John McCain is under fire for his group's refusal to disclose their donors.
Ironically enough, Sen. John McCain (R-AZ), along with Sen. Russ Feingold (R-WI), both advocated for legislation requiring donations over $250 to be recorded in federal elections.
The Daily Caller reported:
McCain was the architect of the landmark Bipartisan Campaign Reform Act of 2002 — more popularly known as "McCain-Feingold" — that required public disclosure of all contributions of at least $250 in federal elections. Former Wisconsin Democratic Sen. Russ Feingold co-sponsored the measure with McCain.

But the McCain Institute — created in 2012 with an $8.7 million donation of funds remaining from McCain's unsuccessful 2008 presidential campaign — refused Monday to disclose the amounts it received from its biggest donors who gave $100,000 or more.
A spokesperson from the McCain Institute claimed a list of their donors could be found on their website – but it doesn't relay how much each individual donated, which is the biggest issue.
The Royal Embassy of Saudi Arabia is credited with giving over $100,000 for instance on the website, when in reality, they donated $1 million.
And since the McCain Institute is incorporated into Arizona State University, the records of donors are private and cannot be opened by even the state.
The Daily Caller reported:
However, the McCain Institute declined to spell out exactly how much money each big donor contributed. The web site only lists donors who have given "$100,000 and above," which can be misleading.

The Royal Embassy of Saudi Arabia, for instance, is identified as giving $100,000 or more on the Institute's website. In reality, the Saudis gave $1 million.


By housing the McCain Institute in the ASU foundation, the donations are unavailable under the state's open records law.
Do you think John McCain is up to something?
Leave us your thoughts in the comments section below.
Click Here to Vote Now!  Are D.C. Insiders trying To Sabotage President Trump?